Track and manage your business operations with ease 
Overview of Solar Accounting Software
Increasing demand for solar energy today and in the near future means now is the best time to implement the right solar software technology to help your business scale faster. With advanced automation and cloud-based software, solar business owners can step up their game. Solar accounting software is a critical part of this growth and will help you keep track of your expenses, budget, and profits. It will also help you better understand the financial health of your business.
Small solar businesses start off using various software to manage their finances – some use Microsoft Excel or Google sheets, while others use standalone software like QuickBooks. But when the company starts growing and scaling, it is difficult for these basic applications to keep up with advancement and business requirements. Moving to a fully integrated enterprise resource planning (ERP) platform is the solution – one that integrates accounting with its customer relationship management (CRM) system, inventory management, field service, and automates these processes. Integrated business software offers a unified business management suite for all your productivity and growth needs while ensuring a single source of truth across all departments. The ideal solar accounting software has flexible integrations with other business applications and the ability to scale with the business. 
All you need to know about Integrated accounting software:
Many solar companies can relate to the time-consuming and error-prone manual accounting process. As mentioned above, it is important to implement the right solution now to gain an edge over your competitors, and a business management system with integrated accounting is the key. 
Let's take a quick look into why integrated solar accounting software is better than a standalone accounting application. 
Commissions, job costing, and other sophisticated accounting operations and calculations are automatically performed

Avoids errors and omissions that either go uncorrected or require more time and labor to find and fix
Frees up staff to focus on other opportunities and productive activities 

Integrated accounting provides real-time, up-to-date financial information that's required for accurate

 

and informed decision-making

 
• Most of all, it saves time and labor!
Finance and accounting features of SolarSuccess & NetSuite ERP 
Blu Banyan built SolarSuccess on NetSuite's Enterprise Resource Planning (ERP) platform to serve the specific needs of solar installers.
Unlike QuickBooks, SolarSuccess on NetSuite is customized specifically for your solar business requirements. With the financial planning capabilities of budgeting and forecasting, SolarSuccess comprises agile financial management features like milestone payments, automated billing and notifications, revenue recognition, financial reporting, global accounting and consolidation.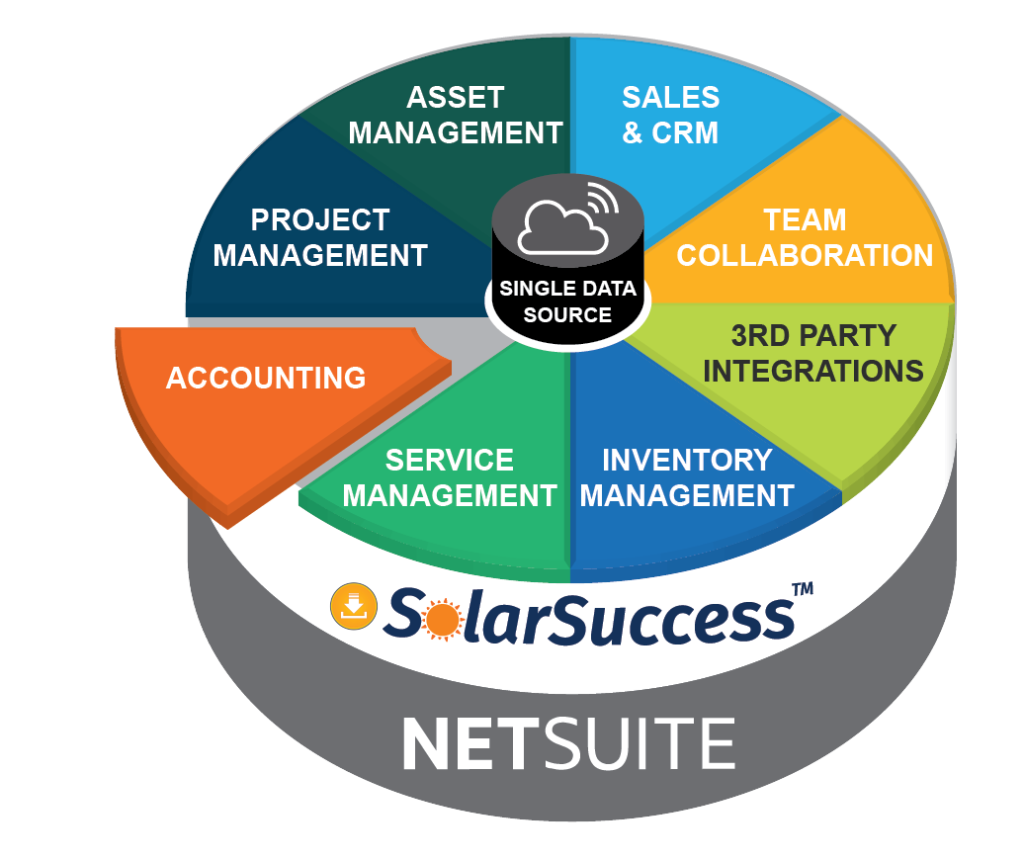 SolarSuccess includes customizable general ledger, cash management, accounts receivable (A/R) and accounts payable (A/P) management, automated domestic and global tax compliance tools, fixed asset management, and optional integrations for automated payment processing applications such as PayStand.
SolarSuccess also offers tools for subscription management, advanced reporting and forecasting, pricing, sales orders and purchase orders and more.
Benefits of adopting a comprehensive accounting software like SolarSuccess for your solar company
How can Blu Banyan give your solar company the accounting edge?
It's not just implementing an ERP. This complex process takes roots in identifying the processes that need to be integrated. Detailed analysis and determining the right business process needs is a crucial step prior to implementing an ERP system. Blu Banyan has a unique approach that accommodates all your business needs; personalizing workflows, third-party integrations, and more. 
We help you drive high ROI, grow your operations, and optimize your organization's profits and processes. Blu Banyan's SolarSuccess is a suite of tools for business intelligence. It simplifies complex reporting tasks to allow greater clarity into the financial stability of the business. These valuable financial insights help you to make informed decisions.      
Blu Banyan is solution-centered and will help you achieve next-level business transformation by implementing a unified business management suite for all of your growth and productivity needs. The accounting tools in SolarSuccess empower solar companies with a robust software to manage and automate estimates, scheduling, contracts, invoicing, and billings- to optimize and improve every aspect of your company's accounting processes.   
Save time, save money with a robust and unified platform.